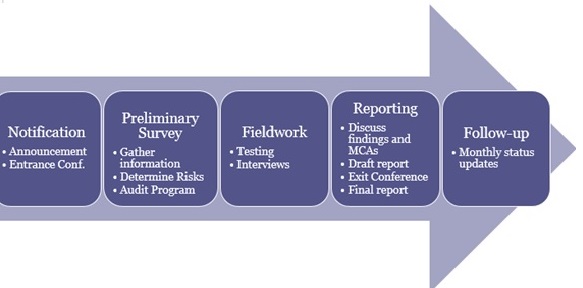 Client Notification
Prior to the start of an audit or advisory service project, an email is sent to the client notifying them of the scheduled project. An entrance conference is held to discuss project objectives and scope, and to obtain client input regarding areas of focus or concern.
Preliminary Survey
During the preliminary survey phase of the project, the auditor is obtaining an understanding of the audit client in order to develop a risk based audit plan that includes specific objectives for the engagement. The preliminary survey phase may involve obtaining organization charts; interviewing client personnel; learning about process flows; reviewing applicable policies, laws and regulations; and other steps necessary to appropriately focus the project.
Fieldwork
During the fieldwork phase of the project, the auditor is gathering, analyzing, evaluating and documenting information. Work performed during the fieldwork phase may include detail data analysis; review of financial records; observation of business processes; surveys of stakeholders; and other testing necessary to achieve the engagement objectives identified during the preliminary survey phase.
Reporting
Draft Report - At the conclusion of project fieldwork, a draft report is provided to client management. The draft report summarizes significant observations made during the project, as well as recommendations for corrective action. (Observations and recommendations are normally vetted informally with applicable managers prior to issuance of the draft report.)
Exit Meeting – Subsequent to issuance of the draft report an exit meeting is held with client management. At that time, the draft report is reviewed with the goal of agreeing upon management corrective actions (MCAs) and related implementation dates to address report observations.
Final Report – A final report is issued to client management once all outstanding questions and issues from the draft report have been resolved. Distribution of the report is dependent on the type of project.
Follow-Up
AMAS follows-up on all outstanding MCAs to ensure they are implemented by the agreed upon date. Monthly reports detailing current, past due and closed MCAs are sent to applicable Deans and Vice Chancellors on a monthly basis.